Dear Prayer Partners,
Published by

admin

on Sat, 01/19/2019 - 16:35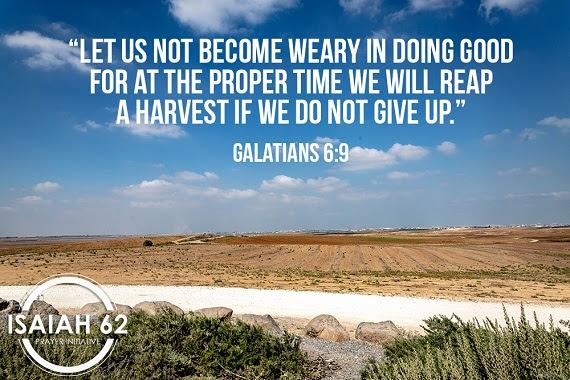 Date:
19/01/2019(Saturday) PM 04:30
Dear Prayer Partners,
Thank you for joining us for week four of the ICEJ Isaiah 62 Prayer Initiative.
Each new year is the ideal time for a fresh start, and January 2019 is full of new beginnings for the ICEJ and our staff members. Many of us have set new goals and have hopes of new beginnings for 2019. For some of us, it started with this prayer initiative throughout the month of January.
You may have set a goal to include Israel in your prayers and fasting on a weekly or monthly basis. Unfortunately, it is quite common for us to become weary after a couple of weeks and fail to reach our goal to pray consistently throughout the year.
Let me encourage you with Galatians 6:9: "Let us not become weary in doing good, for at the proper time we will reap a harvest if we do not give up."
The next day of prayer and fasting in our Isaiah 62 Global Prayer Campaign will be
Wednesday, January 23rd, 2019.
Please join us!
Prayer Focus for January 2019 - Week 4
1. Pray for Israel
A. Ethiopian Aliyah
A new wave of 1,000 Ethiopian immigrants have been approved to make Aliyah in 2019 to their ancestral homeland of Israel, and the first 300 will arrive in February. This will be a dream come true for many, not only making Aliyah, but also finally being able to reunite with family members they haven't seen for many years. Please pray that all of them to arrive this year with no delays or obstacles. The ICEJ has committed to pay for the flights for the full 1,000. Please pray that God will send more partners to help us support the ICEJ Aliyah work in Ethiopia and around the world.
"He will set up a banner for the nations, and will assemble the outcasts of Israel, and gather together the dispersed of Judah from the four corners of the earth." (Isaiah 11:12)
2. Pray for the Nations
A. ICEJ Branches Around the World
The ICEJ has branches in over 90 nations around the world with new branches starting up every year. Through this international network of national directors and representatives across the globe, we are continuing to raise up support for the people of Israel through solidarity rallies, teaching events, conferences and advocacy campaigns. Please pray for a strong unity among all of the ICEJ staff and members worldwide. Pray for God to open up new ways for the worldwide family of the ICEJ to connect in even stronger ways this year.
"And He Himself gave some to be apostles, some prophets, some evangelists, and some pastors and teachers, for the equipping of the saints for the work of ministry, for the edifying of the body of Christ, till we all come to the unity of the faith and of the knowledge of the Son of God, to a perfect man, to the measure of the stature of the fullness of Christ;" (Ephesians 4:11-13)
3. Pray for the ICEJ
A. ICEJ Envision Conference
Our annual ICEJ Envision Pastors & Leaders Conference is taking place here in Jerusalem next week. We are expectant to see how God will move this year as His leaders gather together here in Jerusalem to get rejuvenated, connect with other leaders from around the world, learn more about God's heart for Israel, and see the people and the land of Israel. Pray for God to pour out His Spirit over these meetings, and for each leader to leave Israel feeling refreshed, encouraged, and inspired to share God's message about Israel within his or her sphere of influence.
"A generous person will prosper; whoever refreshes others will be refreshed." (Proverbs 11:25 NIV)
"For this reason I bow my knees to the Father of our Lord Jesus Christ, from who the whole family in heaven and earth is named, that He would grant you, according to the riches of His glory, to be strengthened with might through His Spirit in the inner man, that Christ may dwell in your hearts through faith; that you, being rooted and grounded in love, may be able to comprehend with all the saints what is the width and length and height – to know the love of Christ which passes knowledge; that you may be filled with all the fullness of God." (Ephesians 3:14-19)
Thank you for joining with us in prayer!